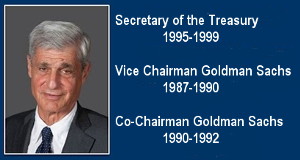 Copy —
Karen Kline
Santa Fe, NM 87505
9/26/96
The Honorable Robert Rubin, Secretary of the Treasury
15th Street and Pennsylvania Avenue NW
Washington, D.C. 20220
Dear Mr. Rubin,
Enclosed please find a copy of my 8/5/96 letter to you. It is a serious letter, wouldn't you say? Or, did you even read it?
If you did read it, your delay in doing anything with it gives the impression that you chose to ignore the egregiously misleading papers the IRS recently sent to me, of which I provided you copies. Your delay also gives the impression that you chose to ignore the fact that I am planning to take my life when my property is foreclosed or I run out of money, each of which events is directly related to and caused by IRS putting me out of business.
In view of the response I received today from John Rush, I feel that your action, apparently limited to forwarding my letter and its associated documents to him at IRS, is grossly inadequate.
Mr. Rush, IRS, Washington, D.C, writes that he is referring my complaint to the Regional Commissioner, Western Region. But last November the Regional Inspector General for the Western Region wrote the following, "We are referring your information to: Internal Revenue Service … Washington, D.C."
If this is not a run-around, then what is?
I wrote to you because the situation with IRS is appalling. I expected you to do something real. What you have done is something really appalling.
I would not have written to you if I had not exhausted every other avenue.On the other hand, the good thing about the run-around is that it clearly shows you how severely wrong this system of taxation has gone.
It occurs to me that I must send copies of Mr. Rush's response, and the November responses, to everyone to whom I sent copies of my 8/5/96 and my 8/15/96- 8/18/96 letters to you. Luckily, today I was able to sell the bracelet I mention in my post script to 60 Minutes, copy enclosed, which means that I will be able to buy the stamps for this additional mailing.
It is also lucky that I have not yet mailed the last dozen and a half bound copies of my letters to IRS. It is lucky because this run-around should be included, and it will be. I'm glad to have something funny to include. Perhaps the way to liberate Americans from IRS is to start them laughing at it, that will sure end the fear.
Page 2
Ever hopeful, I will also enclose for you some letters which I believe may spur you to take needed action, that is, planning to replace and actually replacing the IRS with a National Sales Tax with quarterly refunds to low income people. I understand that in the past the "Treasury Department's testimony before Rep. Archer's Ways and Means Committee has been much less than
enthusiastic on this topic."
Though Rep. Archer is a friend of the last person for whom I was able to do a real estate transaction, and Rep. Archer has actually written back to me, with a true letter, not a form letter, it was not he who wrote to me the observation that I quoted above. It was a friend of mine at NTU.
On page two of my
2/2/96 letter to Ralph Castillo
, Inspector, Department of the Treasury, Internal Security, I highlighted the more salient points, to include: 1 don't have the money to hire a lawyer to protect myself from IRS, but Mr. Gallo and others can pay $50,000 at a whack to protect themselves in very specific legislation to favor their interests." And,
"Which brings me to the problem of Rosemary Abascal and Betsy Donnelly and Jeanne Kearney, and Damian Akerman, versus IRS as a whole. While I object to the way these individual people treated me, I believe the problem was that IRS sanctions their behavior." And,  "When  I say that I specifically think about how when I sent in my 911 form, I sent a copy of it to Austin and later I sent a copy to IRS in Dallas, because I was trying to get it to someone impartial, the way the form itself says it will go to someone impartial. But despite all my efforts, it did not go to someone impartial." I note that I wrote in the margins of a September 30, 1994 letter things said by IRS that were not impartial. They were, "Betsy Donnoly – 505-837-5756 Says they already have reviewed my application and decided:they will proceed w/ collection — @ the same time she cannot answer any questions – for instance what does Mr. Barela mean when he says my 1984 form reflected no taxes owed – She says she's reviewed my file many times over the years — Put me on hold —" an empty space follows, representing the time on hold, then, "Problem Resolution Jeanne Kearney made decision to enforce — keep on enforcing". What is particularly great about this, is that it is Jeanne Kearney whose name is on the letter containing the statement, "The return reflected that she did not owe tax," and that is the same letter upon which my margin notes are made. Jeanne Kearney, the letter says, is the person to contact, while Bernard L. Barela, District Director, appears to have signed the letter. I sent many copies of that letter, with its margin notes, out in 1994, along with a letter I wrote that referred to it. I sent you copies of each. I gave a copy of my letter, printed and highlighted in 1994, to Ralph Castillo when he was here, and I sent a copy of another copy printed in 1994 to you, along with a copy of the letter with the margin notes. Please refer to the bound copy of letters for these documents.
Sincerely,
Karen Kline
Karen Kline
Enclosures:
1.         Letter to Robert Rubin, Secretary of the Treasury, dated 8/5/96
2.         Letter from John Rush, Acting Deputy Director, Treasury, IRS, 9/19/06
3.         Letter to John Rush, Acting Deputy Director, Treasury, IRS, 9/26/96
4.         Letter from Richard Leaf, Regional Inspector General, Western Region, 11/24/95
5.         Letter from Richard Leaf, Regional Inspector General, Western Region, 11/27/95
6.         Letter to Ralph Castillo, Inspector, Treasury, IRS, dated 2/2/96
7.         Letter to Donald Skadden, Executive Director, American Tax Policy Institute, 2/2/96
8.         Second letter to Ralph Castillo, Inspector, Treasury, IRS, 2/2/96
9.         Letter to Richard Leaf, Regional Inspector General for Investigations, dated 12/8/95
10.       Letter to Valerie Lau, Inspector General, Department of the Treasury, 10/14/95
11.       Post Script to 60 Minutes, dated 9/25/96
Preceding Page  <~~~>  Following Page
Free Trials
Try Amazon Music Unlimited 30-Day Free Trial
Join Amazon Prime Music - The Only Music Streaming Service with Free 2-day Shipping - 30-day Free Trial
Try Amazon Prime 30-Day Free Trial
Join Amazon Kindle Unlimited 30-Day Free Trial
Amazon.com - Read eBooks using the FREE Kindle Reading App on Most Devices
Try Audible and Get Two Free Audiobooks
Join Amazon Channels Free Trial
Join HBO Free Trial