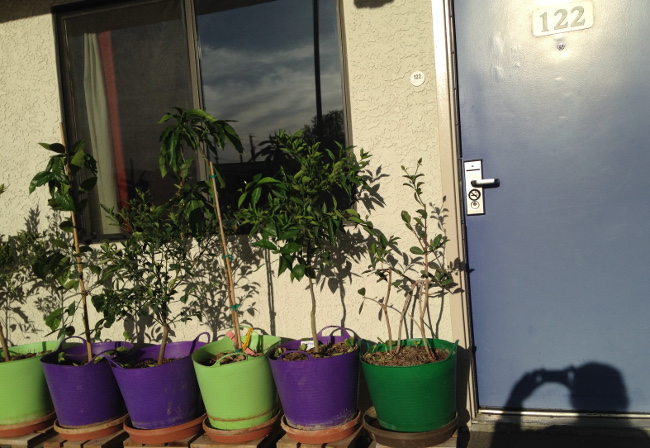 7/5/2019 ~ I'm in the process of sending the following letter to people who work in involved areas. While I don't see any way to survive, I don't want to die without making it clear that NONE of these people helped me, and presumably don't help other homeless people. See list at bottom of page.
---
Karen Kline
Room 122, Motel 6
3695 Cerrillos Road
Santa Fe, NM  87507
July 2, 2019
Dr. David Scrase, Secretary
Office of the Secretary
P.O. Box 2348
Santa Fe, NM 87504
Re: Why wouldn't I feel suicidal?
Dear Secretary David Scrase, M.D.,
I hope you help. It may be unrealistic for me to have that hope, however, given how deeply flawed the system appears to be. It's likely, however, that the people who are paid by the system feel otherwise.
Personally, I'm disabled and was housebound for years. Being unable to go to stores, I was unable to use food stamps. I'm still housebound, but now I'm at Motel 6. On Sunday I ate the three Quaker Oats breakfast bars I had. I didn't have money to buy anything else to eat.
On April 10, 2019, Deputy Sheriff, Robert Girnendonk, had my locks drilled so he could remove me from the home I bought in 1993. He brought Katherine Field from PMS, Presbyterian Medical Services, with him. He drove me to Motel 6; she paid for a week.
The courts had allowed Wells Fargo to use a false affidavit, other false filings, and fraud to foreclose. There was $84,000 left owing on my Promissory Note. Key here, is that under the UCC, §§ 55-3-301 and 55-3-309, Wells Fargo had to have my Promissory Note, or have lost it while it was in their possession: a foreclosure is an enforcement of a Promissory Note.
My promissory note was last seen on May 16, 2002, when GE Capital Mortgage Services had my mortgage. On February 2, 2004, a FEMA file that was to have had my Note in it, didn't. On July 1, 2005, my mortgage was assigned to Wells Fargo. On April 7, 2008, Wells Fargo filed its Complaint for Foreclosure, but did not serve me.
I complained in court, but the judge said it didn't matter if I wasn't served because I'd found the foreclosure. That was little comfort given that I didn't find the foreclosure of my condo in 2007, and I was not allowed to redeem after it was foreclosed and auctioned with no notice to me. I had planned to pay off my home, the one from which I was evicted, with the proceeds from the sale of my condo: I had a buyer at the time. Just to be clear, when my hot water heater broke at my condo, I took cold showers and paid my mortgage rather than buying a hot water heater and not having enough for my mortgage. Little good that did. The corruption stops at nothing.
Wells Fargo's false affidavit and false Notice of Lost Note said they had lost the Note. The falsity was revealed at trial when the dates, cited above, were brought forward.
Wells Fargo's fraud relied on an elaborate explanation of how buying Wachovia in 2010 gave Wells Fargo possession of my Promissory Note when the Note was lost. However, there's no evidence that the document custodian, acquired by Wachovia before Wells Fargo acquired Wachovia, had the Note at any time after May 16, 2002.
On May 17, 2019, Presbyterian Medical Service paid movers to move my things. That would have been good except PMS let the movers in without me there. When PMS brought me, an hour later, the movers would not move things I pointed out. They were going through my drawers and ignoring me when I asked for chairs and chrome carts to be moved to the truck. It was incredibly distressing. Two PMS people, joined by the Breckenridge Property Fund 2016, LLC (Breckenridge was the buyer at auction) employee, Eric Jones, stood around chatting and laughing. I couldn't get their help with the movers. Copy of letter, "re: movers" attached.
The next day I wrote to PMS describing what happened. PMS did not respond, ever. I wrote to upper level Presbyterian Medical Services people who responded two days ago, saying that I should take it up with the movers and Breckenridge. The letter was copied to PMS attorneys. I took that to mean I should sue Georges Moving and/or Breckenridge.
The moving-my-things (losing-my-things) day was so distressing. I couldn't sleep for days after that. And I was so dizzy. I was afraid to get up. Even with my walker the spinning sensation made me feel as if I was going to fall.
Washing my hair was especially difficult. I have less balance if I close my eyes. I wanted home health care so someone could help me wash my hair so I wouldn't fall.
I knew I had been qualified for home health care, so I continued asking my Presbyterian Health Plan (Centennial Care), Care Coordinator, Desiree Garcia, for help getting someone to help me. I left two messages or more a day. Once she called back and said she'd help but would have to call back. She didn't call back and didn't ever help.
After I complained Ruth Perea wrote that I couldn't have home health care because I was living in a motel, copy attached. I responded that I have the same balance problems here as at home and I didn't understand why I couldn't have help when I'd been qualified for help. Copy attached. Ruth Perea did not respond.
Next I specifically asked Desiree Garcia for a copy of the rule that said I couldn't have help if I was homeless and living in a motel. She has not to this day responded.
If I had home help I could get a ride to a grocery, to wash clothes, to the credit union to get money to wash clothes, to court to file, and to the Soleras Station interview. Without help going places I had to pay $60 to Lyft and Uber for rides, and as a result I didn't have the money for my room on Thursday, June 27. I was so distressed and depressed. Twitter friends have been helping me. But I just couldn't beg anymore. I found myself thinking about who among the druggie type people here at Motel 6 I could antagonize into killing me so I wouldn't have to keep going through this. Cops would probably be the best bet. It's been hopeless trying to get help from agencies in Santa Fe, or New Mexico as a whole. Sunday June 30th, I didn't have money for food because of having to pay for rides.
May 17, the day I was to get things from 30 years of my life, PMS showed no interest in having the movers move things I kept saying I needed going forward. My friend went with me to get things a week later, but Breckenridge Okayed only a half hour for me to be there, so I wasn't able to get much. There as a huge mess, and half the things I had wanted moved were still there. My friend saw on the 17th how the movers and PMS were behaving toward me, and he saw on the 24th how much was left with too little time to get things I need. If PMS works for Breckenridge, then I should have been told so I could have rejected their duplicitous "help".
I have written to the Social Security Administration with a copy of my letter "re: movers" attached so they can see things for which they may have been charged, when in fact I was NOT helped by the questionable/horrific behavior of PMS and Breckenridge.
I believe I would have been able to get into Soleras Station, built through the Santa Fe Housing Trust, weeks ago if Presbyterian hadn't black balled me for complaining. I supposedly won a one bedroom, handicap access apartment with a curb-less shower in a lottery for Soleras Station. But to actually get in I needed my Care Coordinator or some Social Worker to help me, to explain on my behalf why I needed that apartment. My Care Coordinator would not help. Now there are no more one bedrooms left. I had to agree to pay $40 extra a month for a two bedroom when another building is complete. It's horrible paying $305/wk to stay at Motel 6. I don't have the money. It made me sick that I could be on the sidewalk last Thursday. Luckily my credit union held my motel room payment; it didn't go through until Monday, July 1, when I had SSI and GoFundMe money. Sadly, today my credit union charged me an overdraft protection fee, even though they never extended any money to me because there was no need when they held the payment.
I had much better care when Molina provided my Centennial Care.
I am beside myself with worry. Presbyterian is making my difficult life MUCH worse. Presbyterian's behavior has been unconscionable re my things on May 17, re my housing at Soleras Station, re refusing me home health care I qualify for that would save me so much money and allow me to buy FOOD; plus, home health care would help ensure I don't fall while washing my hair in the sink. I'm not well enough to use a bathtub shower.
I hope you help people like me so that Presbyterian does not go on mistreating us simply because we are homeless. I am sure that if Presbyterian behaves this way toward me, it is the way they typically behave toward people who do not have their own home or apartment. I have to wonder if Presbyterian is trying to force me into a long term care facility of theirs, for profit. I believe Presbyterian sees me as a commodity.
Please do something about Presbyterian not providing the health care (home help) that I desperately need. It appears too late to do anything about the other problem of my Presbyterian Care Coordinator refusing to help me get into independent living at Soleras Station. The first three buildings are filled, and as I understand it from Christine Baca, Monarch Properties, they had to fill them so quickly that some of the handicap apartments were given to people who don't even need them.
I can't trust my bank, I can't trust New Mexico courts, I can't trust law enforcement, I can't trust health care providers, I can't trust housing people. Why wouldn't I feel suicidal?
Sincerely,
Karen Kline
Copies: Justin Robison, Exec. Director, Santa Fe Housing Trust; Jack Macgillvray, VP, Monarch Properties; State Employees Credit Union; Life Link; Nathan Stimson, attorney for Breckenridge Property Fund 2016, LLC; NOT Presbyterian b/c they pay no attention.
7/5/2019 ~ I'm copying my letter to people working in involved areas; 4 copies a day, except for the days I had to wait for stamps to be delivered.
Hours before trying to kill myself in the 90s after IRS put me out of business as a Realtor, I sent out 122 "last letters". I had saved them up. But, I was discovered in my car with the exhaust funneled in and saved. I was very angry about that at the time. I wish I still had a car. But, I think the heroin will work.
N.M. Human Services Department:
Karmela Martinez, Acting Director Income Support Division, NM Human Services Dept.
** 505-827-7263
Nicole Comeaux, Director HSD Medical Assistance Division
** 505-827-3100
Dr. David Scrase, Secretary
** 505-827-7750
New Mexico:
New Mexico Aging & Long-Term Services Department
** 505-476-4799
State Employees Credit Union:
Harold Dixon, CEO and President
** 505-983-7328
Housing:
Laura Yoder, Housing Director, The Life Link
** 505-438-0010
Jack Macgillvray, V. President, Monarch Properties (Soleras Station Property management)
** 505-260-4800
Buyer at Auction:
Nathan Stimson, Kelcher and & McLeod, PA, for Breckenridge Property Fund 2016, LLC
** 505-346-4646
New Mexico Commission on Access to Justice:
Hon. Nan G. Nash, Co-Chair, Access to Justice
Hon. C. Shannon Bacon, Access to Justice
** 505-827-4860
Kenneth (Kip) Bobroff, UNM Law Faculty and Access to Justice
** 505-277-0677
Prof. Barbara Creel, Dean UNM School of Law
** 505-277-0907