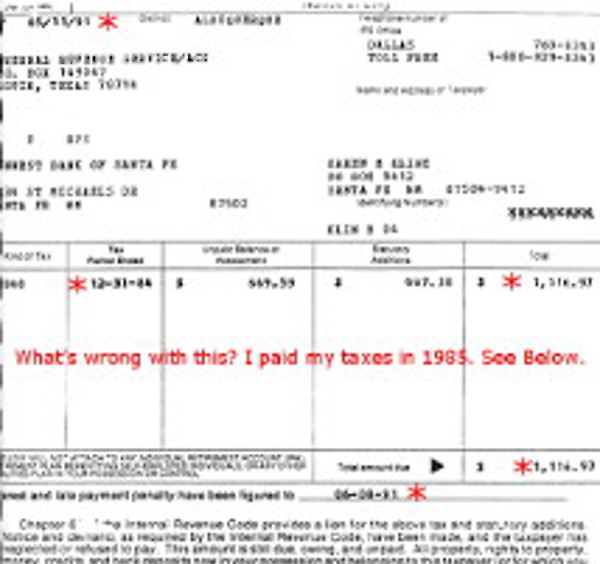 When IRS was threatening me daily in the early 90s, I tried every way I could imagine to get them to see and correct their error: In 1991 IRS levied me for 1984, which I'd paid in 1985. I truly believed IRS would correct their error. But they did not.
I also thought it was possible to reform IRS.
Believing – as I still do – that the Pen is Mightier than the Sword, I wrote letters to people asking them to support IRS reform or influence someone to effect IRS reform.
For example, I found an article naming Robert Rubin's favorite professor when Rubin was at Harvard. I found the professor's son's address in Who's Who and wrote to him.
Believing the truth to be earthy, I wrote about John Henry, my kitty, whom I feared would hurt Chrysanthemum, the turtle, in whom he showed great interest. My perception completely changed one day when John Henry went to her, rolled over on his back in front of her, either submissive or relaxed, but in either case friendly. Hoping that with this I had the son's attention, I begged him to call Robert Rubin because, I said, I was sure that the Secretary of the Treasury would take a call from his favorite professor's son; and IRS's abuse of people could be stopped.
Bound Letters
Bound Letters began with a group of letters I sent on May 9, 1996, to then IRS Commissioner, Margaret Milner Richardson. See the tab below that looks like this:

When some months later I had not had a helpful response from the Commissioner or anyone in IRS or the Treasury, I began binding the letters and sending them to Congress, etc. to show the spectrum of authorities to whom I had written for help in correcting an IRS error.
I concluded that if it was effectively impossible to get an IRS error corrected, then in fact the behavior that created the problems I was suffering was not an error, it was abuse.
IRS levied me in 1991 for taxes I paid in 1985
Basically, I paid my 1984 taxes in 1985, nevertheless, IRS charged me penalties and interest for 1984 and levied me for my 1984 taxes in 1991. IRS documents show this. In 1994, IRS put me out of business as a Realtor, throwing me into such poverty that I lived without my furnace in winter.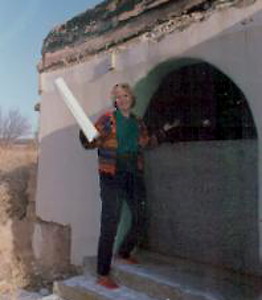 Before that I used to send out newsletters when I was a Realtor. I tried to make them eye catching, like this image of me trying to explain, humorously, how there weren't many "new" listings because things were selling so fast. (Thomas Stanford, who won the Oscar for editing West Side Story asked me out as a result of this particular newsletter.)
Later, when my home was foreclosed and I was going to keep my word to kill myself, I sent out 120 last letters, each with a picture like this so that people could see what I was like before IRS took away what I needed to live.
IRS threats made it life or death
Worse even than being put out of business was the constant fear IRS caused by calling and threatening me – "We can take your house. We will take your house."

Stress lines show Low B12
So, I thought, I will work as hard to reform IRS — I already admitted to being foolish — as I did at being a Realtor; I won't worry about the threats or lack of money, because when my house is foreclosed or I run out of money, I will kill myself. So what can IRS threaten me with now? Also, I felt sure more people would read my letters if there was a "life or death" quality to them.
But, the fact is that I felt a vast relief when I took the decision to kill myself in the event a certain point was reached.
To give you an idea of the vastness, there was a day when I was driving to Albuquerque in the middle lane, with both the fast and slow lanes open next to me; a lumbering sixteen wheeler came up behind me and blew its horn, rather than itself change lanes. I laughed out loud. I thought, "I'm fighting the IRS, I'm sure not frightened of a truck."
In that fight, I sent out dozens of "Bound Letters" to the media, judges, Congressional Committees, a Constitutional Scholar, members of the Cabinet, former bosses, etc. And after each volley, I added what had come of the previous mailing.
As I added to the top, the oldest/earliest letters fell at the end.

In terms of IRS correcting their error, nothing came of my letters. In fact, in 1997 after I filed Chapter 11 bankruptcy, where you pay people back, IRS filed a proof of claim for over sixty-six thousand dollars for the time I had been without heat and eating from my garden. *(8/24/2013 ~ However last year when I could no longer stand the threats from the New Mexico Department of Tax and Revenue based on IRS, I called to find out what was owed. No records could be found. All had been destroyed in the proper time frames. Whew.)
Nevertheless, it could be that the sun is setting for the IRS.

I have a page about the Angel of Divine Love's place in this.
Here are some links:
www.GiveMeLiberty.org for We The People, predominantly Christians addressing the fact government has not answered significant questions about the legality of the income tax; and www.ntu.org/ for the National Taxpayers' Union, which, if you pay taxes, you owe it to yourself to join.
Here is a "Table of Contents" for the Bound Letters:
1
.  
Card
I gave to hundreds of people, registering dozens
to vote.
2-3
.
Letter to Robert Rubin
, Treasury Secretary, 8/21/96
4-7
.  
IRS Tax Accounts
with weird bits highlighted
8-9  
.
Letter to Robert Rubin, Treasury Secretary, 9/26/96
10-11  
Letter to Robert Rubin, Treasury Secretary, 8/5/96
12-14  
Refund, IRS Style
15-16   
1984 IRS Tax Account
, printed in 1994
17-18   
1984 IRS Tax Account
, printed in 1996 (fewer entries)
19-21   
IRS Run Around
: three Treasury Letters
22-24   
Letter to Donald Skadden, Am. Tax Policy Institute
25        
Letter to Ralph Castillo
, Treasury Inspector from
Phoenix who came to my home
Bound Letters Part 3
43-45
.
Letter to HUD Secretary
, Henry Cisneros
*
How the tax system fosters hate groups
46
  .
IRS letter
47-48
.
Letter to Margaret M. Richardson
, IRS Commissioner
49-51  
1984 Tax Return, payment check, 1991 Levy for 1984
52-54  
Letter to Don Boroughs
, US News World Report
* Miracles, Sleeping
55        
Letter to F. Whitaker
, Chief, IRS Collection Division
56       
Letter from Linda Martinez, IRS

57-65  
Letter to Margaret M. Richardson
, IRS Commissioner
*
Seminal
There were many other letters. For instance I wrote and included several letters to President Clinton, whom I believed to be a good president at the time. That was before I understood what Bill Clinton's repeal of Glass Steagall did to me and millions of other American homeowners.
Summary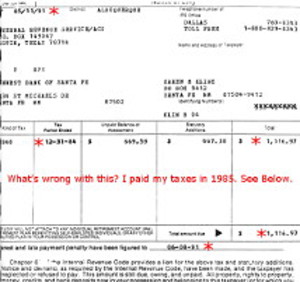 Article Name
Description
IRS threatened me daily in the 90s. I tried to get IRS to see its error. Instead IRS levied me for '84, which I'd paid in '85, and put me out of business.
Author
Publisher Name
Publisher Logo